Our farm grounds us. Our passion drives us.
Tenera Grains is a family of businesses founded by the Smith family to simplify the path from farm to plate. As the farmer, processor and a snack brand, Tenera Grains has uprooted the conventional supply chain. The products we create are good for you & good for the planet. We are proud to share our passion for farming and food with you.
The Farm
at Tenera Grains
Tenera Grains raises grains & seeds among other crops on land in southern Michigan. Food grade cleaning and dehulling also happens here!

We create healthy & delicious products using the grains grown and processed on the farm. Our signature product is Teffola a nutty teff granola.
Consulting
with Tenera Grains
We help other farmers diversify their strategy & revenue by bringing value added processing to their farm. We also specialize in connect food brands directly with quality suppliers.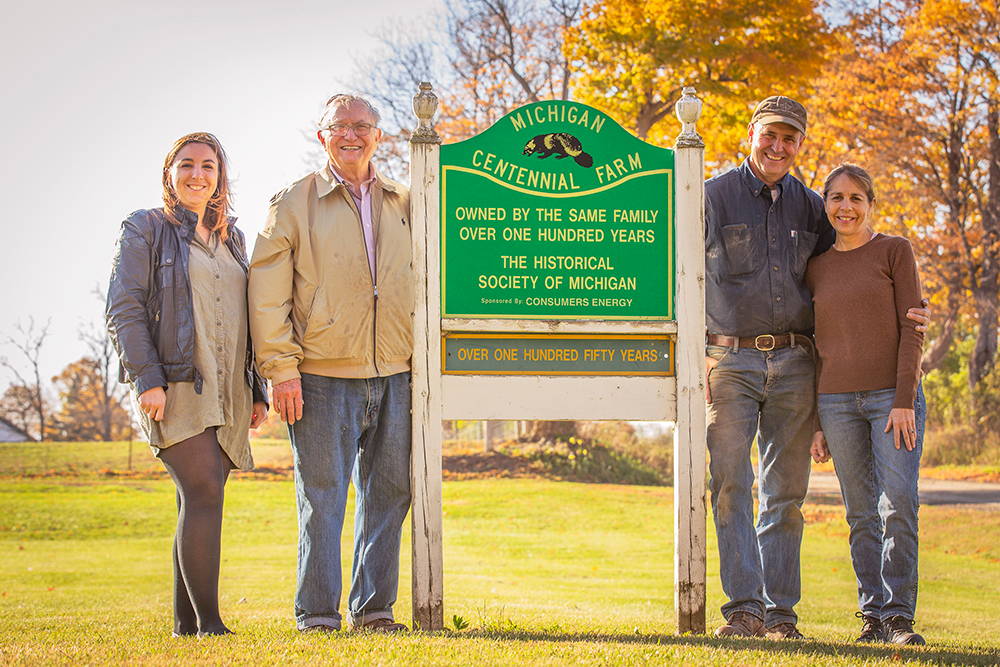 For seven generations, the Smith family has farmed land in Addison, Michigan. Each generation has worked hard to evolve the farm to where it is today. This legacy homestead is currently stewerted by Brand & Diane Smith.
Brad was the sixth generation to grow up on the farm, during that time the farm focused on dairy production and transitioning no till row crops. Around 2012, Brad took over daily management of the farm operation, and began exploring different farming methods. He introduced cover crops and increased the crop diversity, adding radishes for aeration and adzuki beans for nitrogen. When a family friend suggested growing teff, an ancient grain originating in Ethiopia, Brad saw a new channel for revenue.
Claire, daughter of Brad & Diane, was living in western Canada when her parents pitched her the idea to move back Michigan and help them market & sell this obscure ancient grain. In the spring of 2015, without knowing how well teff would grow in Michigan, they planted 33 acres. And Claire went to work finding a cleaning and milling services, launching teff flour on Amazon in 2016.
Claire continued to experiment with teff making quick breads and cookies. One day when she added teff her favorite gluten free granola and the flavor was amazing! With encouragement from her family to pursue this teff granola, she started producing Teffola in a commercial kitchen and selling it at local grocery stores & farmers markets.
As the production of Teffola took off, Brad began to examine the expense of shipping the teff out-of-state to be cleaned. This was the closest facility that allowed teff to maintain a gluten free status. It became clear that Tenera Grains farm would need to find a way to clean & dehull the world's smallest grain on their own. In 2020, the farm added buckwheat to its crops and the next spring both teff and buckwheat were grown, cleaned and processed on the farm in their brand new facility, which was certified gluten free.
Teffola also expanded, from Original to three additional flavors including a collaboration with Zingerman's. In March of 2023, Claire launch Teffola Bites. This portable version of Teffola was an instant hit and sold out in a month.
The next expansion of Tenera Grains is helping other farmers to bring value add processing to their operations. While we are still learning and evolving, we want to use our years of experience to cultivate change and make an impact in the agriculture and grain landscape.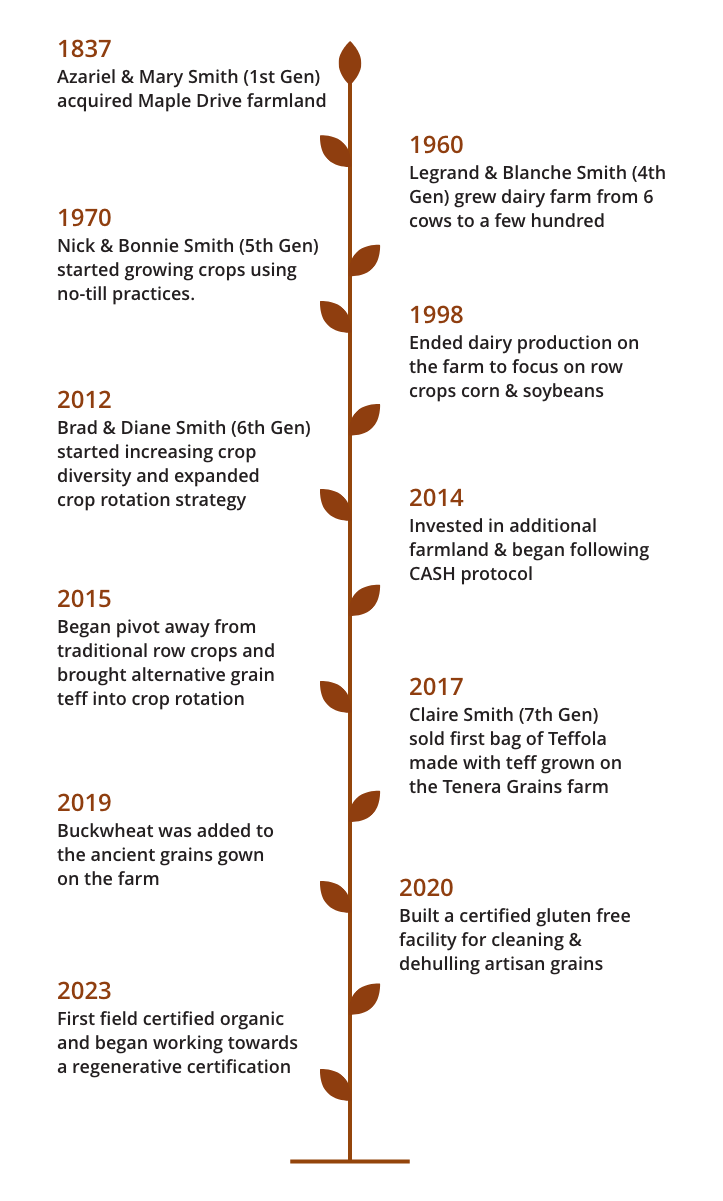 At Tenera Grains we do things differently.
"From the soil we steward to the products we create, we strive to bring the farm a little closer to your kitchen. We hope our continued practice of regenerative agriculture and our commitment to product transparency creates a healthier planet for future generations"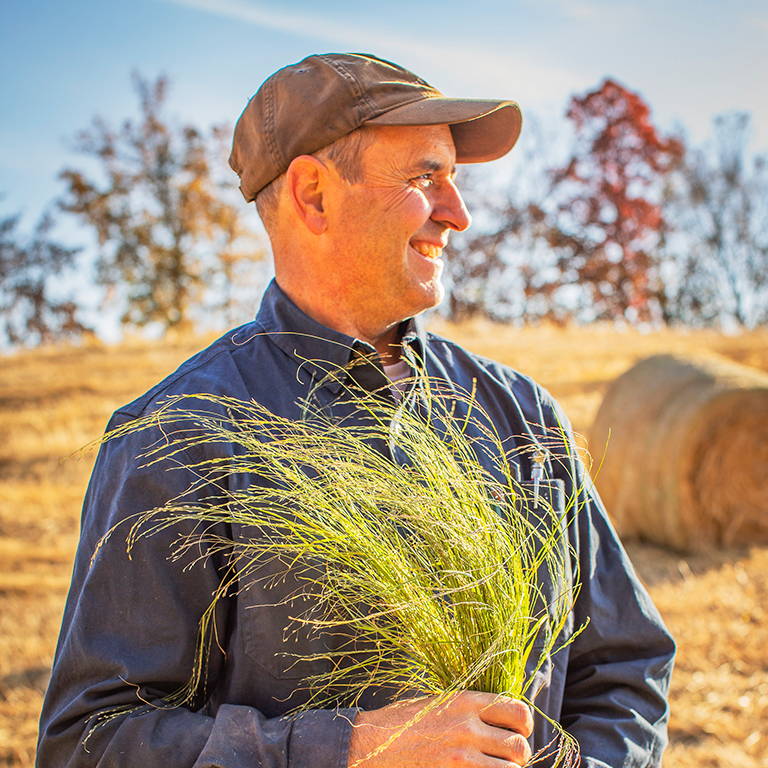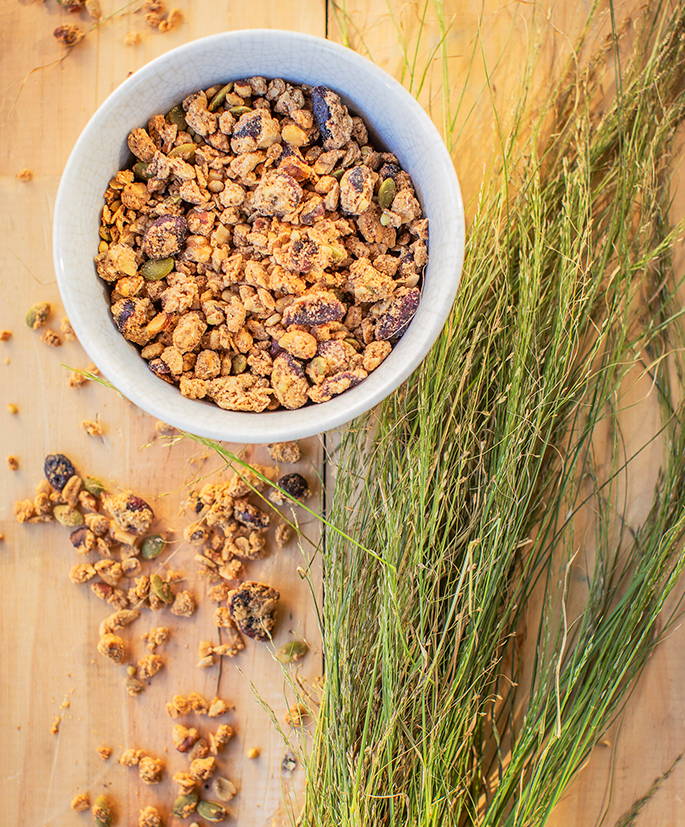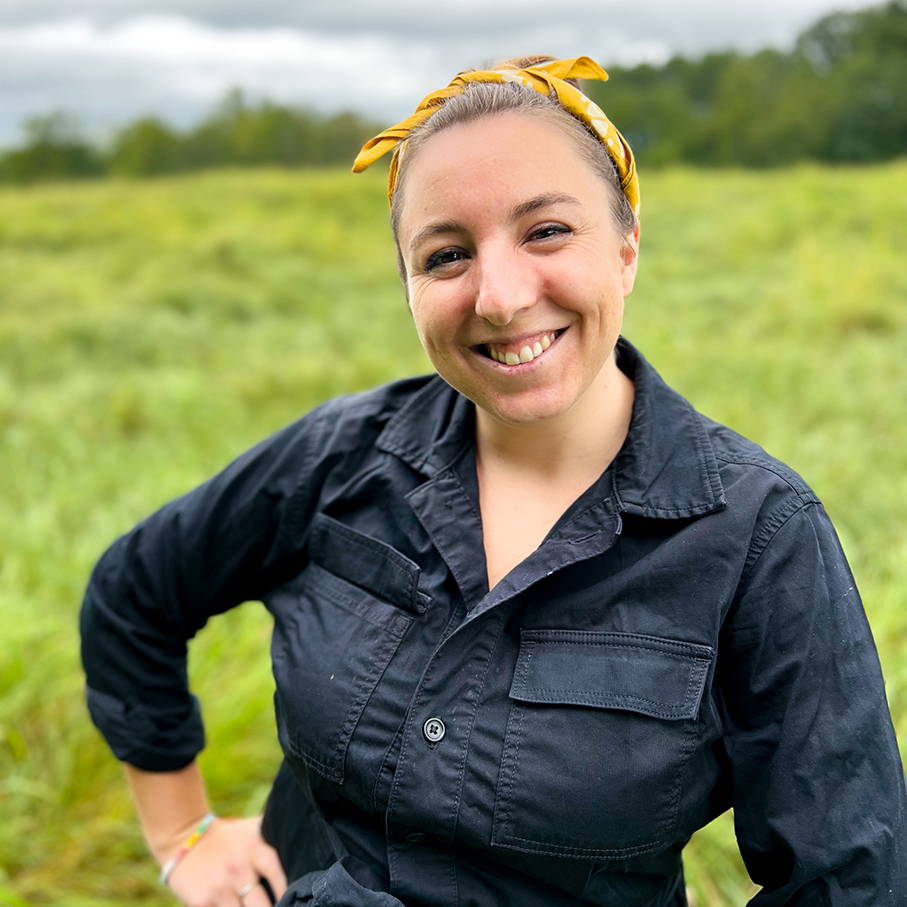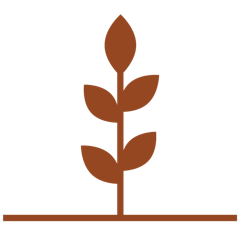 Made with ancient grains regeneratively grown on our family farm. No fillers. No artificial flavors or sweeteners.

Our history with regenerative agriculture.
Claire went on The Pitch podcast where she pitched investors and explained why we care so much about regenerative farming. Hear her whole story, what they thought, and the follow up below.
Gluten Free Cleaning & Processing
From the beginning we had big dreams for this facility. A few years in and we can't believe the friends we've made, people who have visited and, most importantly, the progress we've made in understanding dehulling.
Ancient grains are nutrient dense, full of flavor, better for the environment and support a resilient economy. We plant grains and pseudo grains like buckwheat because the future of food depends on the progress we make today.
Our collaboration with Zingerman's
The team at Teffola has never been more excited to present an exclusive granola with Zingerman's! Cherry Cacao Granola is made with Michigan dried cherries, Tenera Grains teff and cacao nibs from Askinosie.